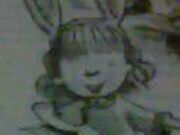 Victoria "Tori" MulQueeny
is Judy's friend and pen pal from England. Judy befriends her in a shop in Boston. She is a big fan of Bonjour Bunny. Judy wants to have the same stuff as Tori, but her parents won't let her unless she is more responsible. Tori collects sugar packets and her catchphrase is "Fab!"
Things that Tori has
Edit
A Bonjour Bunny headband (until she gives it to Judy to remember her by)
A Bonjour Bunny alarm clock
A Bonjour Bunny bag
A Bonjour Bunny backpack
Bonjour Bunny pyjamas
A Bonjour Bunny sleeping bag
A Bonjour Bunny phone
Tons of sleepovers
Her own bathroom
A washcloth
Pounds of allowance
Judy Moody - Tori's new friend and pen pal from Virginia. She befriends Judy in a shop in Boston.
Stink Moody - Judy's pestering little brother.
Ad blocker interference detected!
Wikia is a free-to-use site that makes money from advertising. We have a modified experience for viewers using ad blockers

Wikia is not accessible if you've made further modifications. Remove the custom ad blocker rule(s) and the page will load as expected.