James "Stink" Moody is Judy Moody's little brother. He reads encyclopedias a lot and joins the Toad Pee Club. He has Toady, his pet mascot for the club.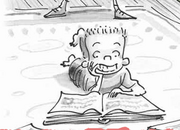 Rocky Zang - Judy's best friend.
Frank Pearl - Judy's "pest" friend
Mrs.Grossman Jr. -Mrs.Grossman best fart.
Tori - Judy's pen pal from England. She has everything that Judy never has: many sleepovers, a phone, a washcloth, her own bathroom, and pounds of allowance. She is a big fan of Bonjour Bunny.
Laura Chumsky - An African-American little girl in a wheelchair who has had a heart replacement. She is getting a hamster when she goes home. She is given a doll that looks just like her, like the newspaper said.
Hannah - A girl who comes to see Judy's pit in Judy Moody Gets Famous
Ricky - Hannah's little brother. He eats Judy's pit because he thinks it's an M&M.
Zeke - Stink's teenage friend who is the president of the BBA (Bigfoot Believers Association). He appears in Judy Moody and the NOT Bummer Summer.
Herb - A member of the BBA.
Webester- stink's best friend
Rose - A member of the BBA.
Ad blocker interference detected!
Wikia is a free-to-use site that makes money from advertising. We have a modified experience for viewers using ad blockers

Wikia is not accessible if you've made further modifications. Remove the custom ad blocker rule(s) and the page will load as expected.