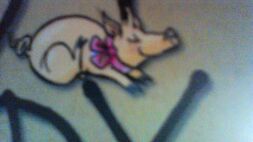 PeeGee WeeGee
(or
P.G.
for short) is Jessica Finch's pot-bellied pig in
Judy Moody and the Bad Luck Charm
. Judy offers to look after P.G. while Jessica is at her big spelling bee. He lets out a stinky smell if he gets scared, and goes cuckoo when Stink pops open a bag of crisps very loudly, even TV. When P.G. runs away, Judy and Stink race like mad to get him back, and find him swimming in a swimming pool.
Ad blocker interference detected!
Wikia is a free-to-use site that makes money from advertising. We have a modified experience for viewers using ad blockers

Wikia is not accessible if you've made further modifications. Remove the custom ad blocker rule(s) and the page will load as expected.