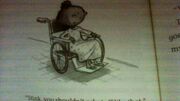 Laura Chumsky is an African-American little girl in a wheelchair in Judy Moody Gets Famous!. Laura is in a wheelchair because she has had a heart replacement, and she can't walk around yet so the doctors have to keep her in the hospital for a very long time to make sure her new heart works. Her scar goes from her neck all the way down to her belly button. She is getting a hamster when she goes home. Laura is later given a doll that Judy has fixed and looks just her.
Judy Moody - Judy meets Laura in the Magic Playroom at the hospital.
Stink Moody - Judy's little brother. He meets Laura in the Magic Playroom and asks her questions about her heart replacement.