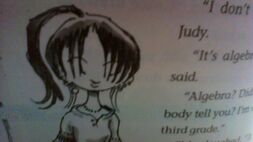 Chloe is a college student and Judy Moody's math tutor in Judy Moody Goes to College. Richard, Judy's dad, brings Judy to college every day after school in the book, to give her some help with her maths. On Saturday, Chloe invites Judy to college for fun and to show her other new places in it, such as her bedroom which she shares with her "roomie" (roommate), Bethany Wigmore.
Ad blocker interference detected!
Wikia is a free-to-use site that makes money from advertising. We have a modified experience for viewers using ad blockers

Wikia is not accessible if you've made further modifications. Remove the custom ad blocker rule(s) and the page will load as expected.